Andrea Dobbins is an avid runner and triathlete, a working professional, and wife of nine years to Joe.  She attends Family Church in Palm Beach Gardens on Sundays and Bible study on Thursdays, but her deepest calling comes from a coast far from the shores of Palm Beach County.
I just held her, and although we don't speak the same language we talked to each other. Love doesn't need a language to communicate.
Three years ago, Andrea visited an orphanage through the non-profit organization, Children to Love (CTL), which was founded by people from her childhood church in Southern California. Her life, after visiting this orphanage, has never been the same.
CTL provides support to the Berachah Children's Home. The orphanage is situated in the cool, tropical climate along the southern coast of India.  Founded in 2000 by Kiran Paul, the home serves over 200 children who have been orphaned or semi-orphaned by tragic circumstances such as severe poverty, parent suicide or natural disasters.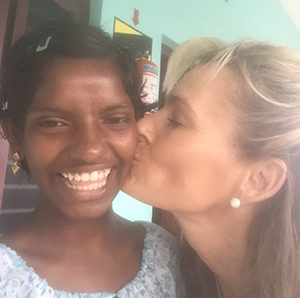 Every child at the home has a uniquely heart breaking story. Some have been rescued from human trafficking, others left abandoned by their family because the parents could not afford to feed them, and others are sold by an aged grandparent that can no longer care for them. Whatever the circumstances were that lead them to this home, they now have the assurance of safety, nutrition, and the opportunity to attend school (all Indian schools are tuition based). Most importantly, they are in an environment that addresses their physical, emotional, and spiritual needs, providing a foundation in the wisdom, love and knowledge of Jesus Christ.
For most of them, their age is an approximation because for many of these people, the struggle to provide food and water for the family is more important than keeping birth records. However, most of the children range in age from approximately four years to 18 years.
The first two trips to India, Andrea went with a team of people from all over the United States. The team members were equipped with a variety of talents and gifts to serve the Indian people. These mission trips are about establishing long term relationships, with the single goal of showing them the love of Christ.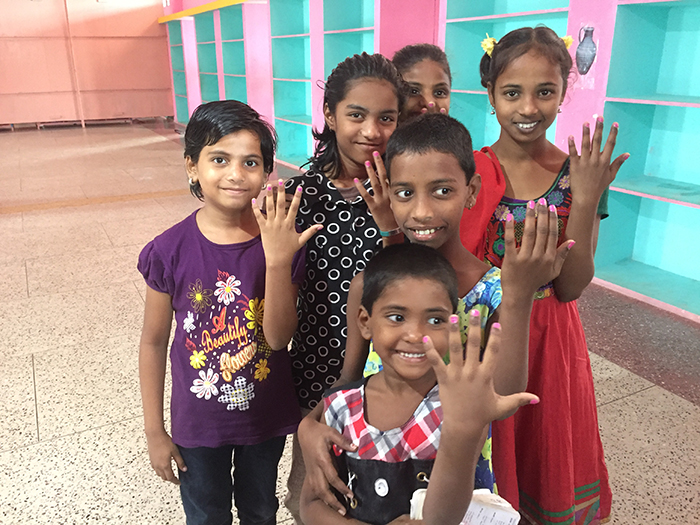 Each trip is uniquely planned depending on the team, but the intentions are generally the same: love the kids, pass around lots of smiles, laughter and hugs, and teach widows and single mothers skills to support themselves.
When the teams return year after year, the kids remember even the most insignificant of details. Andrea found that many of the girls greeted her with questions about her husband Joe and her dog Gracie. They asked if she had a good birthday because they remembered it was the day before she arrived and they reminded her of her favorite color–pink.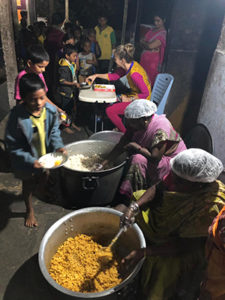 Andrea delighted in seeing their growth; the tiniest ones now so much bigger, the first graders with their new teeth, their younger peers now beaming their toothless smiles up to her. A few new kids had arrived to the home as well.
Andrea recalls a previous year's experience while visiting the orphanage, "Last year we were taking 200 children to the beach. Beach day is like Disneyland. We have these big buses and we load all the kids on the bus to go to the beach."
As they were driving, Kiran and his wife Lakshmi noticed a very small child on the side of the road. This was a busy highway and the child was too close to the road with no adults around. Immediately, Kiran called for the vehicle to pull over. They approached the little girl who was maybe three or four years old, and asked where her parents were. She didn't know. She knew only her first name: Naga-Lakshmi. When Kiran asked when she had last seen her parents, she couldn't give him an answer. So they invited her into the car and continued on to the beach. The staff from the orphanage set up their tents and set out their picnic as Naga-Lakshmi looked on in wide eyed wonder.