Thursday, May 12th, the local chapter of Moms for America hosted their third meeting in Palm Beach County.
The Palm Beach chapter of Moms for America, founded by Marina Hofman, PhD, PBAU professor and author of Women in the Bible, Small Group Bible Study, is building traction with local moms and community leaders to "reclaim our culture for truth, family, freedom and the Constitution."
Dr. Hofman opened the meeting with the announcement of a donor who has offered to sponsor a 500+ person event and partner with the Palm Beach Chapter of Moms for America. America First will be present to offer advice and insight for Moms for America to grow and make an impact in Palm Beach County. More details will be coming soon at Women in the Bible/MFA.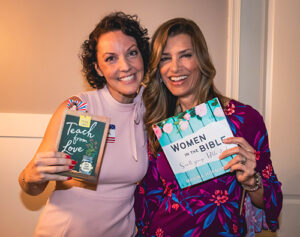 Popular author and activist, Sam Sorbo spoke first with the warning that some would not like what she had to say. She opened with the statement, "School forms a wedge between the child and the parent. It's just the nature of the beast. And because of everything in schools that we are seeing today, we are finally getting to a point where we are admitting that schools are the equivalent of child abuse."
Sorbo went on to explain that Critical Race Theory is teaching children that they are either oppressed or that they are the oppressors. Gender questioning is teaching children to think about things that they are not equipped to think about. She calls it sexual predation on the child. Sorbo pointed out that the level of parental exclusion has risen to a shocking state, "They're telling our children, 'You don't have to tell your parents. We won't tell your parents.' Ten years ago," Sorbo said, "we were catching those people on Dateline. They're grooming them for sexual predation."
Oh yeah folks, they're coming for your kids.
On Joe Biden's words during the April 27 White House event honoring 2022's teachers of the year, "They're not somebody else's children," Biden said, "they're like yours when they're in the classroom," Sorbo reflected, "Oh yeah folks, they're coming for your kids."
Sorbo ended her talk by pointing out that children are naturally curious, and the schools, with their political agenda and highly regulated environment, are killing curiosity. She said, "That is the opposite of education."
Sam Sorbo will be hosting a conference on home schooling at the Port St. Lucie Community Center on June 24th and 25th, 2022.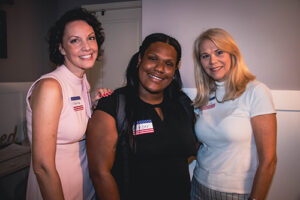 Ambar Sanchez of Turning Point Ministries spoke next about what her organization has been doing and is planning to do throughout Florida to promote religious liberty. Sanchez partners with churches and organizations, organizes events, and creates platforms to promote open discussion of liberties to live out Biblical values.
Ambar told PBC Voice, "This is more about policy than politics. It's more than supporting a candidate or a party. It's about my Biblical values being represented in the city. We are supposed to be the Light of world. I feel like the majority of Americans are faith driven people, but if we don't take our space in the public square, we are not going to be represented."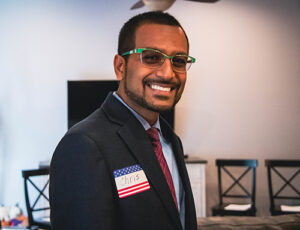 Chris Persaud, a passionate advocate for Moms for America, attended Thursday night's meeting. He is a fourth grade social studies teacher at Westward Elementary in West Palm Beach, who made the news when he was arrested for refusing to don a surgical mask in his classroom.
Chris told PBC Voice, "We are seeing that it's policy that is harming kids and pushing them down. The CDC's stance is that it's okay for the kids to be a year below on performance standards. No it's not okay to be a year below in education! Our nation is being degraded."
Chris is running for the School Board of Palm Beach County, in District 7, where he was born and raised. He is an active member of Church of Divine Revelation in West Palm Beach.
Dorcas Ferandez, Secretary of Republicans of Palm Beach, one of the oldest platforms in the Palm Beaches was in attendance. They meet on the 14th day of every month in the Paddock room at the old Palm Beach Kennel Club from 11:30 to 1pm. Lunch is $35 for non-members and $28 for members.
Also in attendance were Vicki Franzese, wife of Dan Franzes who is running for Congress, Tommy Menk of Trumpsterz Tuesday Therapy (ttt@trumpsterzpbc.com), and Jen Showalter candidate for School Board District 6.
Marina Hofman, as a teacher and mom, is a passionate voice for parents in our community. She builds the platform she believes in by her energetic promotion of fellow advocates of the welfare of our children, and our freedom to uphold and live out out Biblical values.
To support Moms for America Palm Beach County, contact Marina at marinahofman@gmail.com and receive a charitable donation receipt.
https://pbcvoice.com/a-suffering-that-heals/