Dapper is he, as he strolls into TooJay's on Palm Beach Island. He used to visit there regularly with his late wife, Laurie, for lunch. That's where I met up with Charles Carrin, pastor, author, teacher and evangelist, to learn a bit about this Boynton Beach resident's fantastic, remarkable and completely supernatural life in ministry.
Though he has traveled the world, extensively, for 70 years now, it all started right here in South Florida. Charles, born in Homestead, had his own life plans to be a botanist. He would explore the jungles and pursue his life's passion. Doors were already opening in the field because at age 16, Charles had already won first place in the International Orchid Show in Miami. He had the green light and he was ready. Then, suddenly.
In 1947, when Charles was 17, he was on his way to his bus stop for school, when out of nowhere he saw a vision 20 feet above his head. It quickly retreated and was gone in an instant. But that vision broke his heart and crushed his life-plans. He begged and pleaded with God, "No, No, No!" The vision was of Charles himself preaching, and he knew it wasn't just an idea. It was his future. His dreams were shattered. "My life crashed that day," he says with transparency. Though there were denominational preachers in his family line, Charles never wanted to be a preacher. With the impending vision, he knew it was a 'command' for his future and that saying "no" was not an option. Not because of his family, but due to the Divine Presence connected with the vision.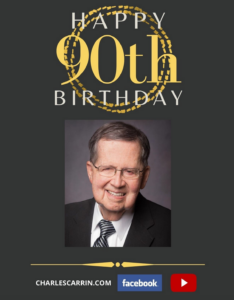 Charles became a Baptist minister, Reformed-doctrinally, and enrolled at Columbia Theological Seminary. For 27 years he was limited to his denominational teaching. However, nothing prepared him for the next 43 years.
In 1977 he was visiting an inmate at the Atlanta Penitentiary when God turned his life around. Neither his congregation or the public knew it but though Charles was ministering to inmates he was secretly battling severe depression within himself.
It was in that setting that he had a true Damascus Road experience–a "Call within a Call" that disrupted much of what he'd come to believe'. A young inmate, Tom, to whom Charles had been ministering, discerned his secret pain and "laid hands" on his head, quoting Ananias' exact words to Saul of Tarsus in Acts 9:17.
Nothing happened until Charles got home. Throwing himself across the bed, he wept, "Lord! I can't go on! If You're ever going to help it has to be now…" As he spoke, the Holy Spirit fell on him, instantly delivering him from depression and filling him with holy power. The prisoner's "laying-on-hands" brought the change. Charles' mental pain was gone forever! His ministry instantly rose to a new level. Charles stepped into new Kingdom authority.
Charles thoughtfully commented that he is still impressed with the anointing of God that was on his young friend, Tom, who prayed for him in the Atlanta Penitentiary.
From that night, Charles' ministry started taking one new turn after another. As he prayed for another pastor, the pastor fell over. He didn't know what that meant, and at one point he didn't want to. He had adamantly balked for years and taught against any reference to God's supernatural gifts that are listed in the book of Acts.
But for Charles, things continued to 'heat' up with a power that would not be denied, as he touched people and they would 'fall out' in the Spirit, as he prayed for them and they'd be healed, and as he knew things about them (word of knowledge) he formerly would have no way of knowing. This was very difficult for Charles as he had no framework on how to proceed. He was a very different person, and was called a heretic among some of his denominational colleagues. Charles thoughtfully commented that he is still impressed with the anointing of God that was on his young friend, Tom, who prayed for him in the Atlanta Penitentiary.
Charles forged ahead with vulnerability. Things got worse before they got better, as his whole life was uprooted. He wasn't sure of the roadmap but the past 43 years of ministering healing around the world has proven to validate that God was guiding him.
Doors opened for ministry, people were healed, and it was not unusual, he shares, that people who had no exposure to the charismatic gifts, in entire congregations such as in the Church of England, would fall out, over the pews, and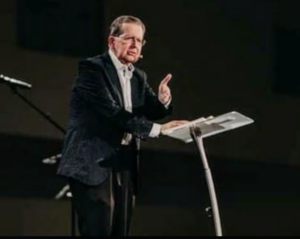 the Spirit of God would minister to them.
There have been hundreds, thousands of testimonies from around the world of healing, deliverance, salvation and lives transformed since Charles experienced this supernatural transformation.
Thirteen books have poured out from Charles' Spirit, led by God, about healing, prayer, the charismatic gifts, his life history and the moves of God he has experienced from Europe to Alaska, the South and Central Americas and Canada, as well as points in between and across the U.S. 'Hooray and Hallejuiah'- Escaping Tradition and Experiencing Power, is one of his latest book that docu